Over recent months, we've found ourselves thinking about ways to improve our practical building skills. Whilst we haven't sat down as a practice and consciously said we need to do this, we're spending increasing amounts of time on site so maybe we're naturally thinking beyond lines on paper. Or maybe it came to light when we tried to build a crazy golf course in the loading bay last year…
Either way, there's no better place to get together as a team and learn some practical skills than CAT, the Centre for Alternative Technology in Wales. Initially we looked into one of their short courses, but with a variety of subject matter to choose from and differing skill levels in the practice, we agreed that a bespoke workshop session would help us improve our basic carpentry skills and allow us to have a bit of fun working in teams. We settled on making furniture from pallets. Our presence on site at CAT for 24 hours would also give us the chance to absorb knowledge about renewable energy, sustainable building techniques, water and sanitation solutions, and organic gardening.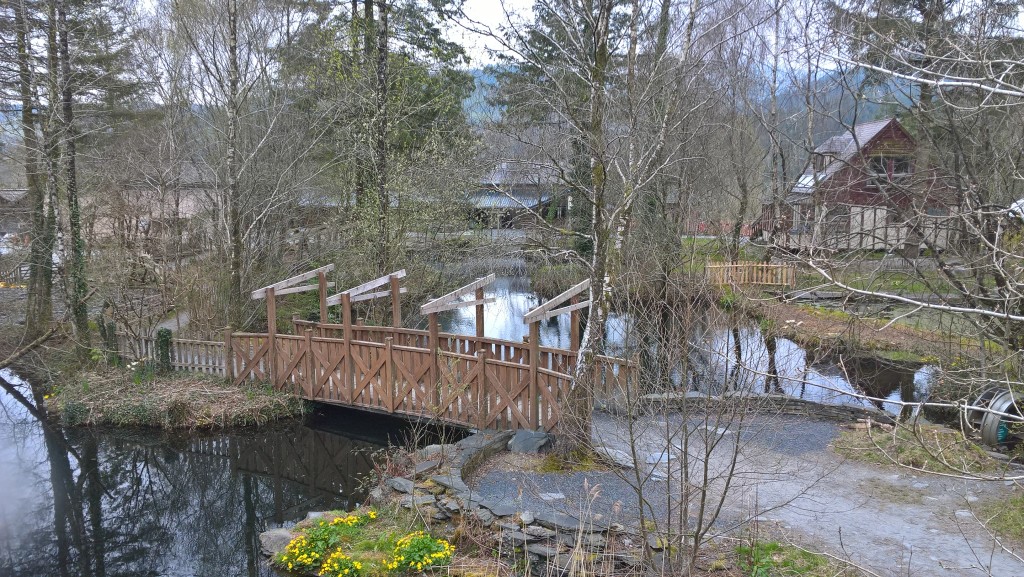 Thursday's journey to mid-wales was straightforward enough for most of us. Counting sheep got a bit repetitive so Carrie, Katie and I (Lorna) found another way to make the winding welsh roads pass a little quicker. 3 music lovers in a car for two and a half hours with a carefully orchestrated playlist of classic singalong tracks including Erasure and Fleetwood Mac… We were all hoarse by the time we arrived (much to our colleagues delight).
Upon arrival we were treated to pizza cooked in CAT's outdoor wood fired pizza oven. This was accompanied by huge bowls of salad grown on site and garnished with edible flowers. CAT is vegetarian and the catering for our stay was meat-free. Could BPN cope without meat for 24hours?? Well yes, of course we could. "The vegetarian food was truly delicious" according to Ben.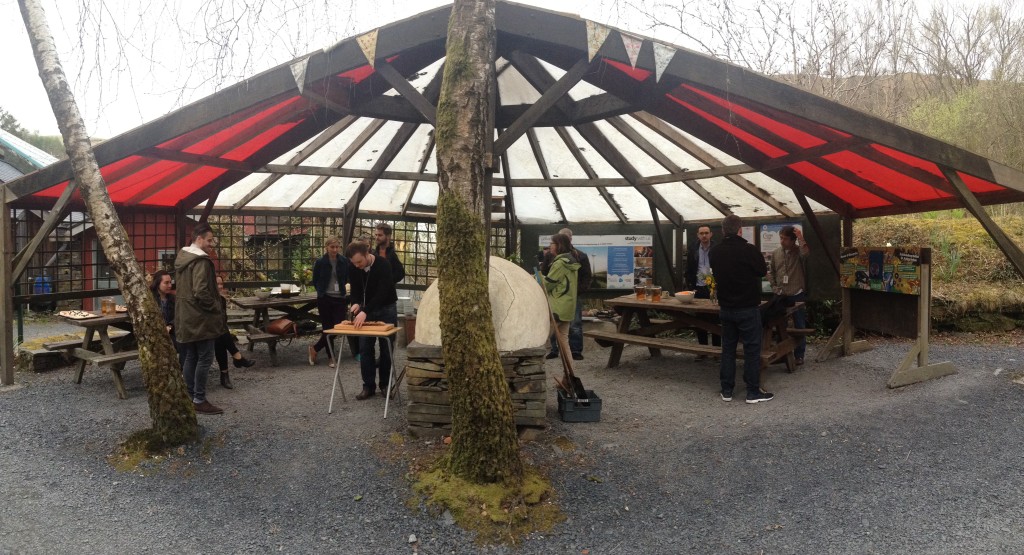 Gavin was pleased there was still some pizza left after he, Ben and Joelle arrived late… "and who would have thought carrot and coconut would make such a nice salad!". Katie mostly liked the flowers in the salad: "very pretty, not keen on flavour. Also not so sure about coconut in EVERYTHING!"
Jury's out on the coconut then.
The Russells (Russ M and Russ I) found their vocation for the evening and competed to see who could handle a pizza peel (that's what those big paddle things are called) with more style. You decide: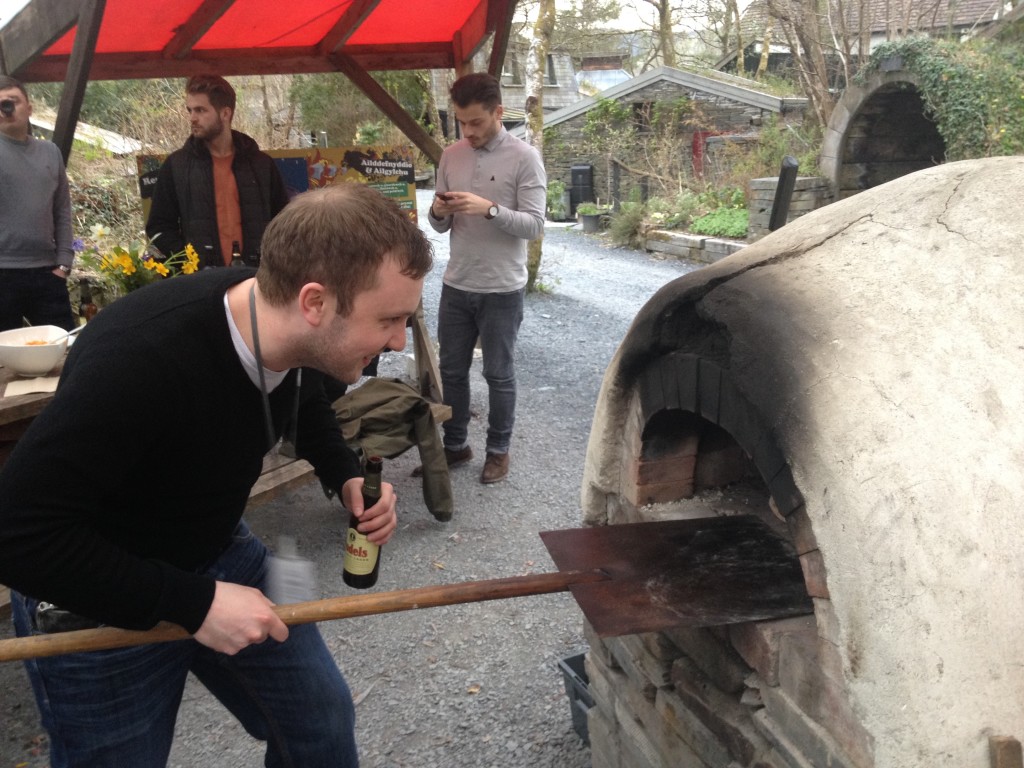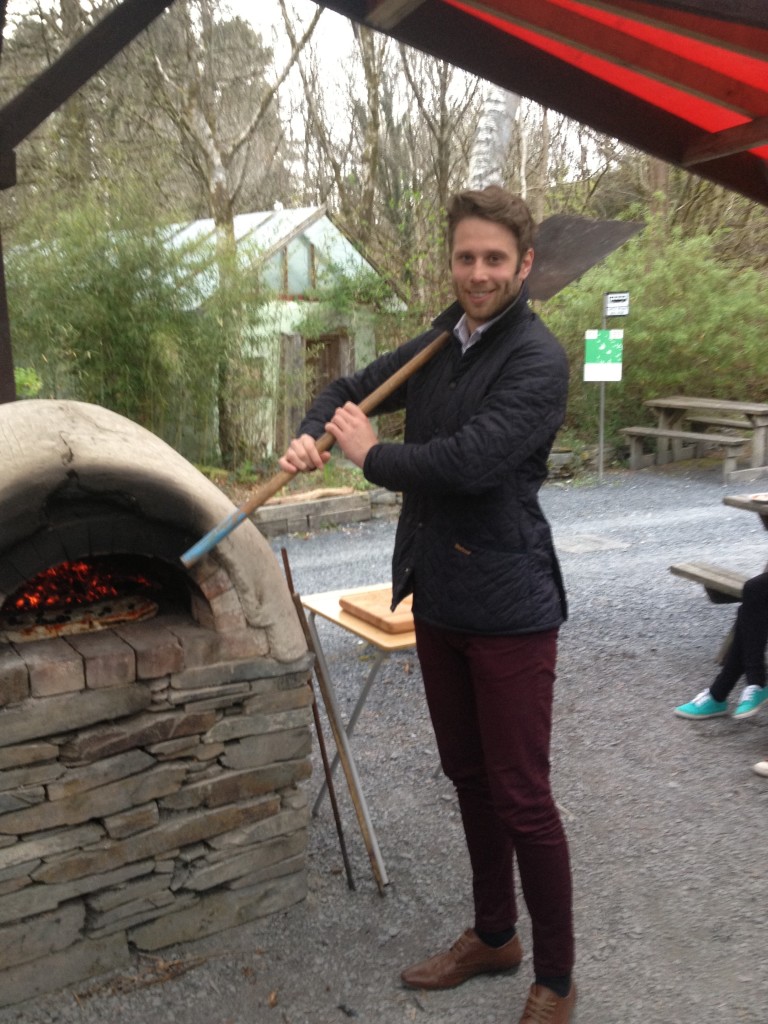 A few organic beers, and a bang on some bongoes later (not a euphemism) we were grateful to be crawling into beds in comfortable rooms on-site. The RIBA Award winning residential accommodation at CAT, known as 'WISE', went down well with everyone. Ben liked the use of timber, especially the walkways to the bedrooms, the simple detailing, and the arrangement of rooms around a central courtyard. "A large glazed door with timber frame is something I'm trying to make my parents consider for their new kitchen as a result of the trip." Katie liked the accommodation too: "very comfortable, functional and homely. A precedent I will be using for future projects."
One commenter who shall remain anonymous will remember the overnight accommodation for different reasons…. "Thunderous snoring from my roommate… Toilet paper in my ears to block out the noise at night." Poor Mark (oops!).
Friday morning arrived and after a hearty cooked vegetarian breakfast of herby oven roasted tomatoes, scrambled eggs and Wales's national dish of hashbrowns (!) we had a walking tour of the site with CAT's Jyoti Tyler. CAT is situated on the site of a former quarry and throughout the site, there is a range of interactive displays, working examples of environmentally responsible buildings and renewable energy generation.
We had a look around an original Walter Segal timber-framed house which is used as overnight accommodation for visitors. On closer inspection the house is looking a little tired, but there's no doubt that the design of the timber structure has stood the test of time. CAT's eco house, known as "Whole Home" was undergoing some maintenance so was sadly closed. Built in 1976 as an experimental prototype by Wates Homes, it is to this day the most insulated house in Britain.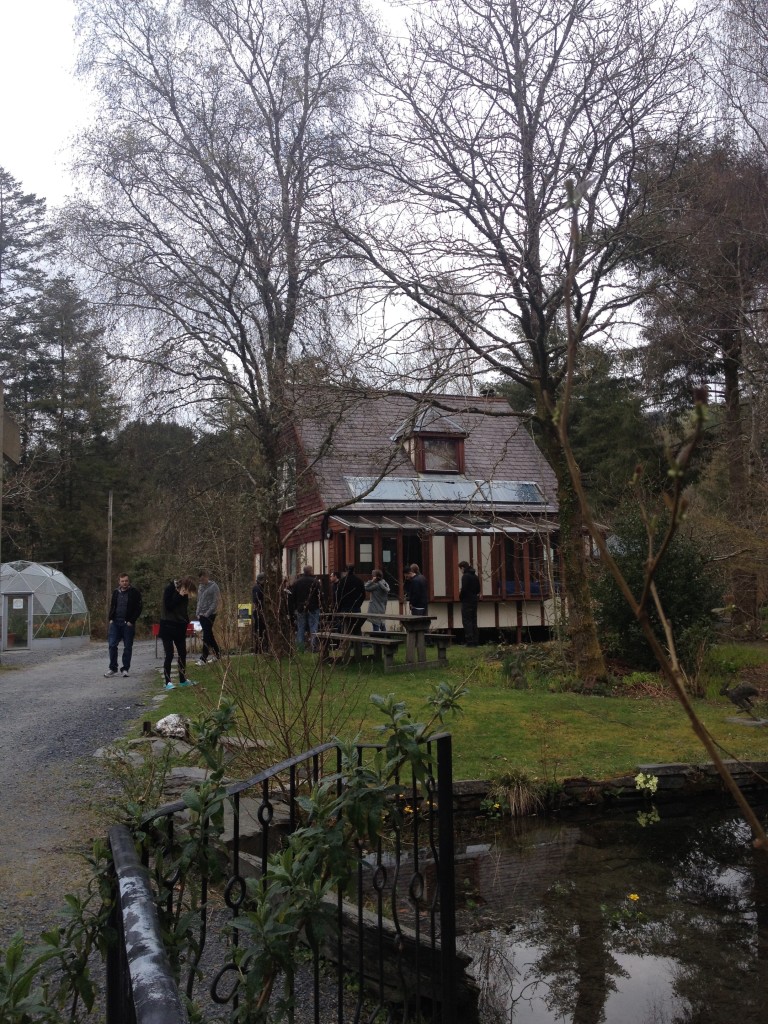 Throughout the site, there are a number of structures designed and built by Architecture students based at CAT.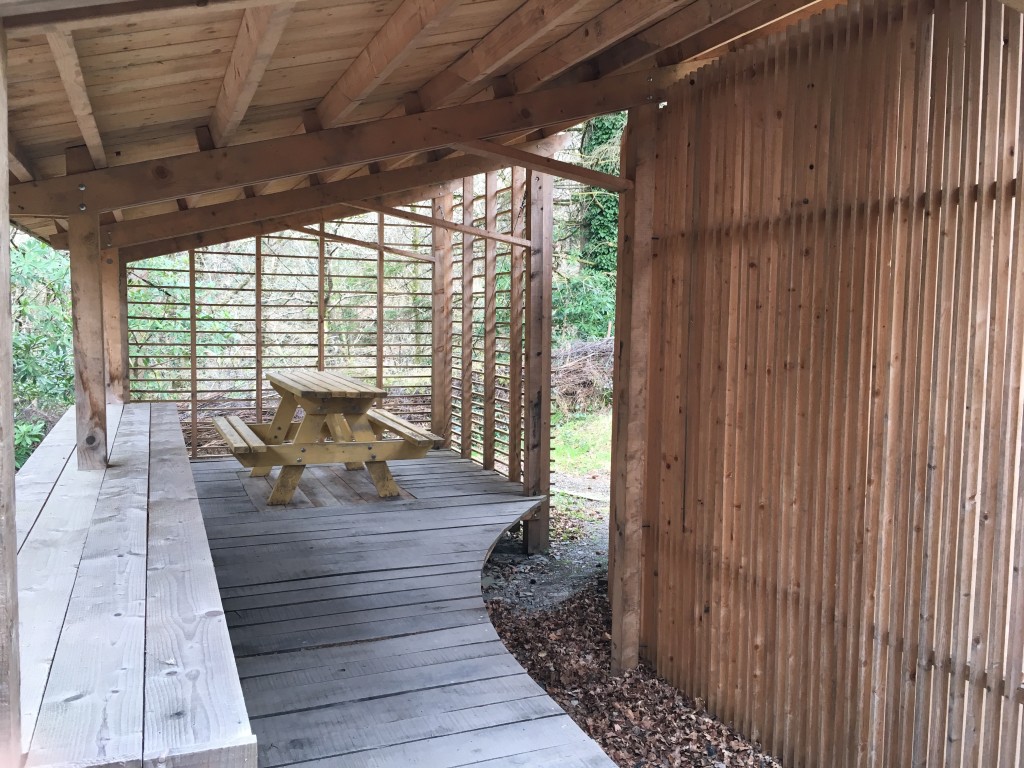 As a regular visitor to CAT for a number of years, Richard had some thoughts about how it's changed in recent years: "Until this visit my experience of CAT had been more of a history lesson about the idealism of the 1970's and how a bunch of hippies wanted to live the Good Life. But its relevance to the everyday practise of architecture was limited because the technologies they espoused were outdated and their green philosophy had become little more than quasi-religious dogma.  But I'm pleased to say that this has all changed.  The WISE building is not only green, it is architectural too with a wonderful use of natural light and careful detailing. And the folks there are now focussed on teaching and testing which means that future generations of architects and designers can take inspiration and spread the word."
Parts of the site were being developed during our visit and CAT has received new investment. A new Biomas boiler is nearing completion, work is being carried out to improve what CAT can offer for corporate events.
The builders working on some areas of the designated hardhat areas of the site enjoyed asserting their authority and reminding us of important safety measures every time we had to pass through site areas to use the loo. The fact that none of the builders was wearing a hardhat within the designated areas will remain one of CAT's great mysteries.
During the tour of the site, I don't think any of us will forget Jyoti's 'humanure' story, "how passionate she was about it will stick with me forever" mused Carrie. Katie noted a change in her own attitude towards sustainability after Jyoti had spoken: "I'm feeling super inspired to learn more about alternative ways of doing things that could work better than established methods."
Jurga found it interesting to see how CAT centre has evolved throughout the last 40 years: from the first prototype houses on the site to WISE building. "The real-life examples of sustainable materials and technologies were well presented in the centre".
After the tour, we donned safety boots and headed round to the Pole Barn (we never did find out why it was called that) for our workshop with master carpenter, Carywn Lloyd Jones, to turn waste timber pallets into something functional. Carywn has over 20 years experience in the construction industry and is an expert in timber framing, including some of the buildings around the CAT site.
We divided into 3 teams and drank some tea.
Then a couple of people draw some lines on some paper.
Then we had some more tea and a hobnob.
Eventually, someone realised that it was nearly lunchtime and there was a flurry of activity.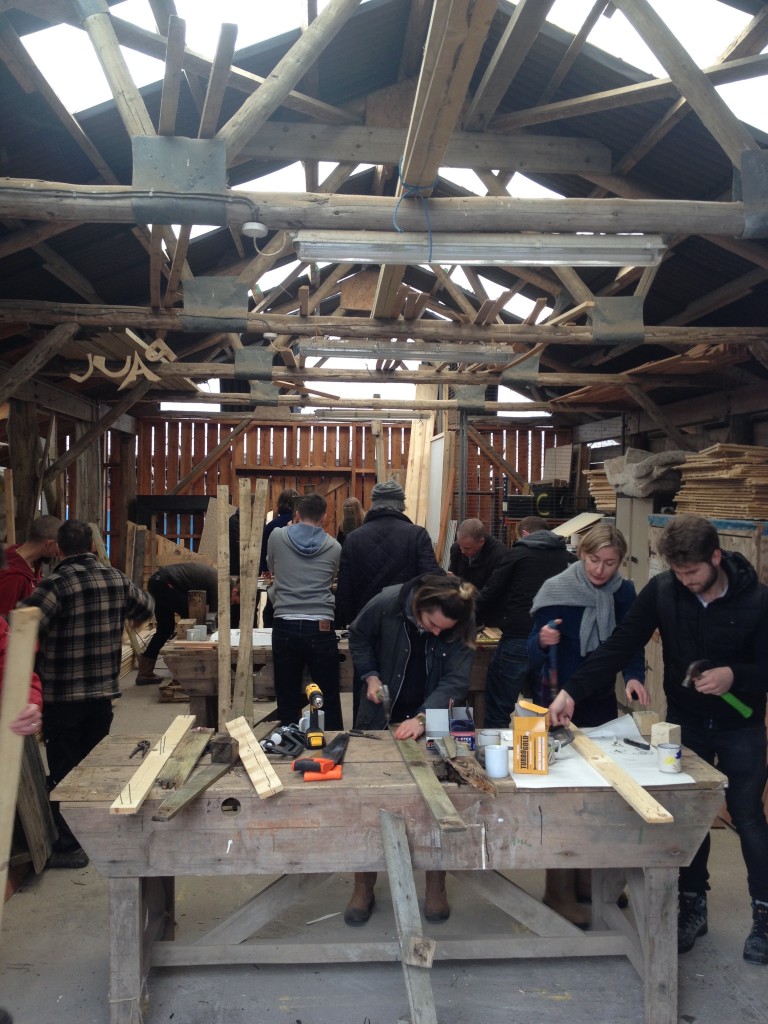 Main lesson when deconstructing a pallet: dropping it on a corner will loosen it and make it easier to take apart. As demonstrated here by Henry, our resident architecture student: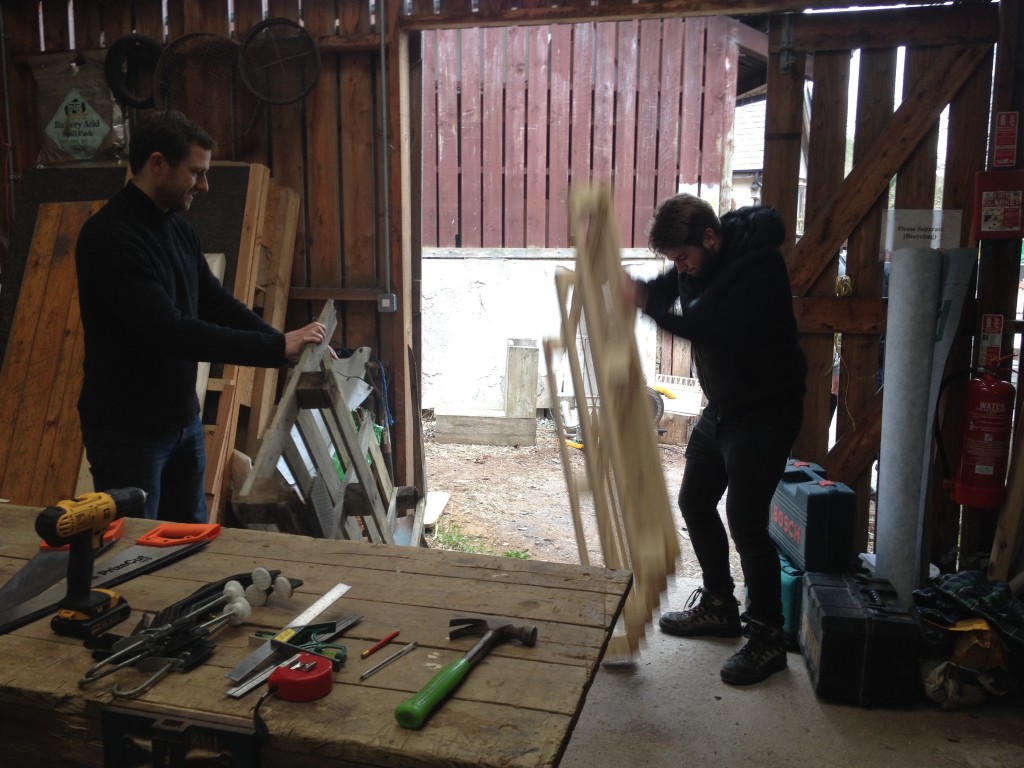 Whilst we were busy constructing our furniture, we broke away from the workshop in small groups to have a look at Carwyn's caravan project which was used in a series of George Clarke's Amazing Spaces. Ellis thought Carwyn's caravan was quite incredible. "I struggle to think of a space I have seen before with such an efficient use of space in the functional sense… CD's for the external side elevations gave a hugely varying aesthetic in changing light, vinyl record flooring brought the musical theme to the interior and provided a pattern for the floor. Even small things like the draft beer handle for the tap gave the 'caravan' a quirky but rustic nature whose elements still all seemed to tie in with each other."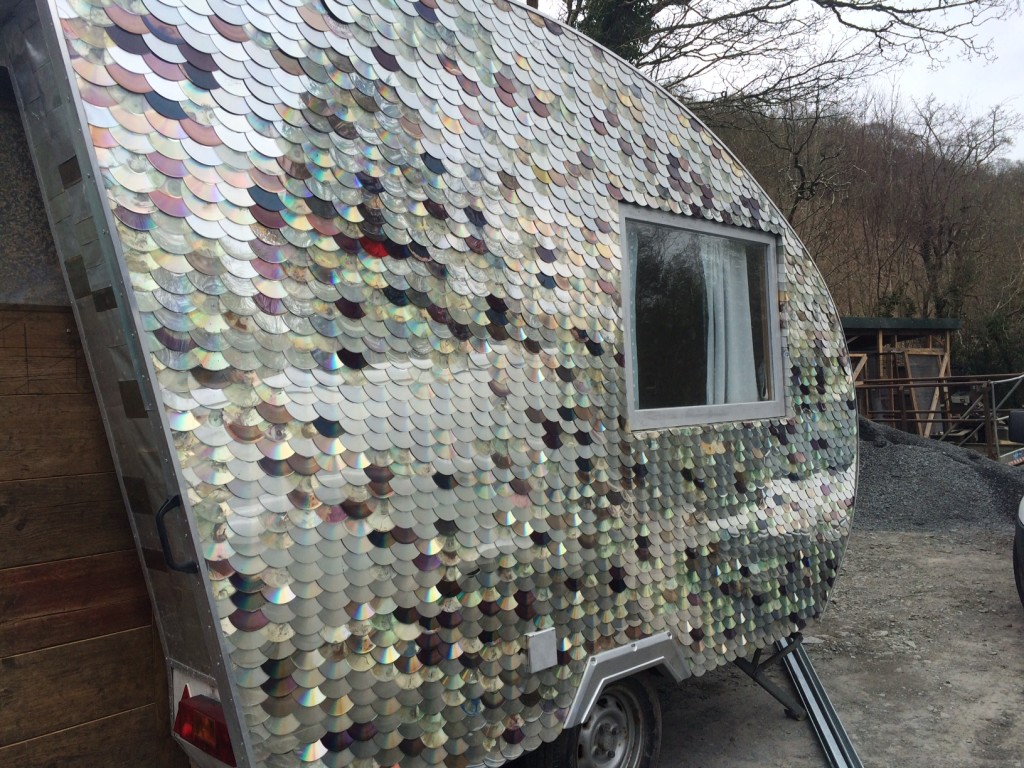 By 3:30pm, remarkably, there were two completed chairs and a table. The chair designs were quite different. According to Richard "there's one that functions as a chair… and another one". You can decide which was the more stable and practical. The table, it has to be said, was a work of art.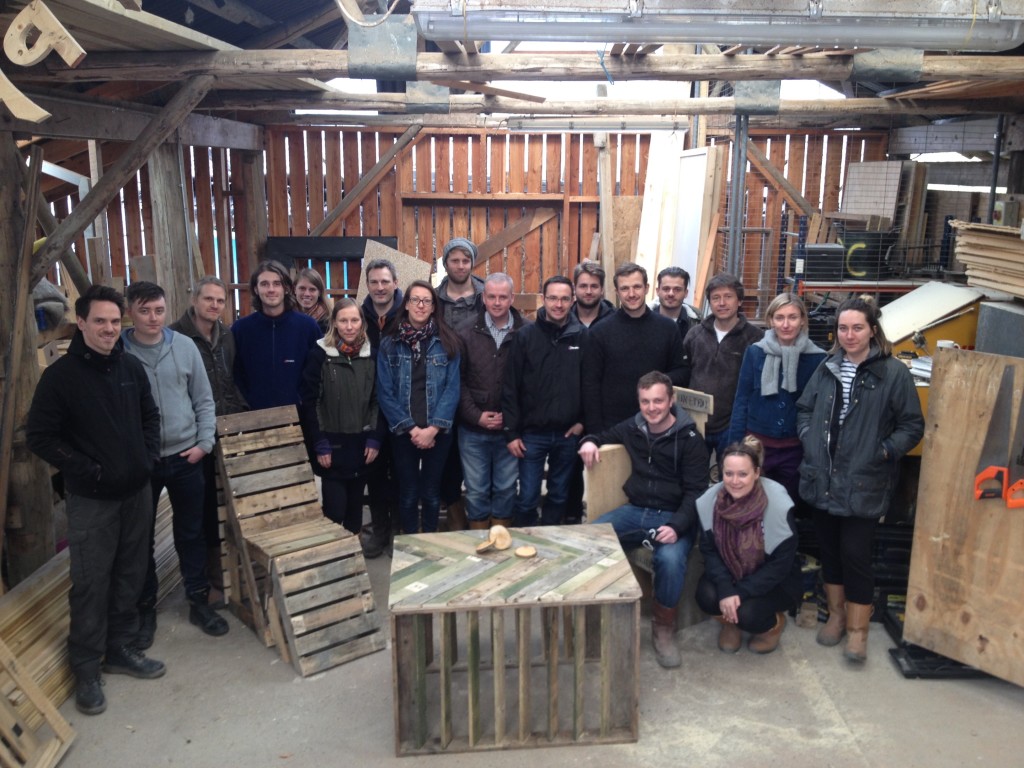 "The furniture making from old pallets was a really enjoyable team exercise. Brainstorming design ideas as a group and problem solving together is something to take forward more in to our design work." Nice words from Russell M there. Aurelija, who enjoyed that we spent most of our time outdoors also said the workshop was a real highlight: "I liked the experience of making our own furniture. It was fun working in groups and I admired the imagination of my colleagues."
Mark enjoyed the teamwork: "loved getting my hands on some power tools for the first time in ages and being part of the winning team in the pallet furniture contest". 
[edit: was there a contest??]
Joelle really enjoyed our time at CAT. "It was relaxing and fun! It was nice to spend time with everyone, whilst eating nice veggie food and making a chair out of pallets. I don't think I had ever held a drilling machine before – what are they called? Oh, drill. I also loved the views from the hotel room. Particularly the slate quarry mountain I saw when I opened the front door. Very impressive."
Sadly, the lack of boot space meant that we weren't able to bring our pallet creations home with us but we're hoping that CAT will find a home for them somewhere on site.
I couldn't conclude this blog post without explaining what Jyoti's humanure story was. Her message was so interesting it's worth sharing it. Here's what happened:
At CAT's visitors centre, located at the top of the funicular, as you might expect there are a number of toilets. During the tour of the site, we learned that CAT are investing in some significant moderations to these toilet facilities. Whilst they already have a couple of "dry" toilets as well as conventional flushing toilets, they are installing a system which will separate waste into dry and wet.
It was this point in the site tour that Jyoti focussed on our attitudes on this most basic of human bodily functions. We have been conditioned to find solid human waste repulsive, which means that we want to deal with it in the most convenient way possible. Typically, this means flushing poo away with water, but when combined with water, bacteria thrives and diseases such as cholera are encouraged to develop. It seems odd to be talking about the risk of such diseases in 2016 but as the 2010 Haiti earthquake proved, an outbreak is a very realistic thing. 8000 Haitians died and hundred of thousands more were hospitalised after cholera was spread to neighbouring countries.
However, if poo is separated from water and combined with a carbon-based product (sawdust for e.g.) odours are neutralised and it starts to break down safely, eventually becoming a product that can be put to use: human compost or 'humanure'. Building a composting toilet is one thing, but using this principle about human waste as a metaphor, Jyoti wanted us to start to thinking beyond convention about other things. In order to realistically address environmental problems, we have to change our attitude from the bottom up (excuse the pun).
She's absolutely right of course. By the third or fourth time Jyoti used the word 'poo' we'd stopped smirking because the novelty wore off. Let's face it: we're all adults and poo isn't actually that funny. And by the time she'd concluded her argument, we were reflecting on how we can change our attitude towards sustainability on a much broader level.
[Full credit for the superb title of this blog post goes to our office manager Carrie]