Sapphire Heights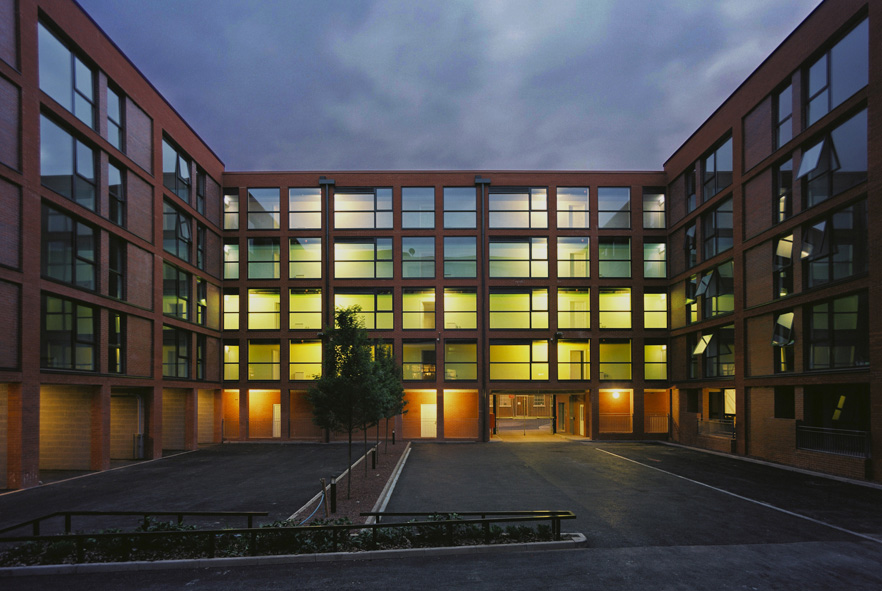 "An outstanding residential regeneration project based on the remarkably low budget and build costs. This is a shining example of good polite street architecture. Reticent, but with impressively layered facades, achieved on a very very tight budget." Build in Quality Awards – Judge's Comments 
Sapphire Heights in Birmingham's Jewellery Quarter is part of the much larger Albion Square project which fills the urban block bounded by Albion Street, Carver Street, Tenby Street and Tenby Street North. Sapphire Heights contains 63 shared equity (each apartment is 50% rented and 50% owned) one and two bed apartments for Prime Focus Housing Association.  This scheme encloses a private courtyard for resident parking of 46 cars and addresses Tenby Street and Tenby Street North.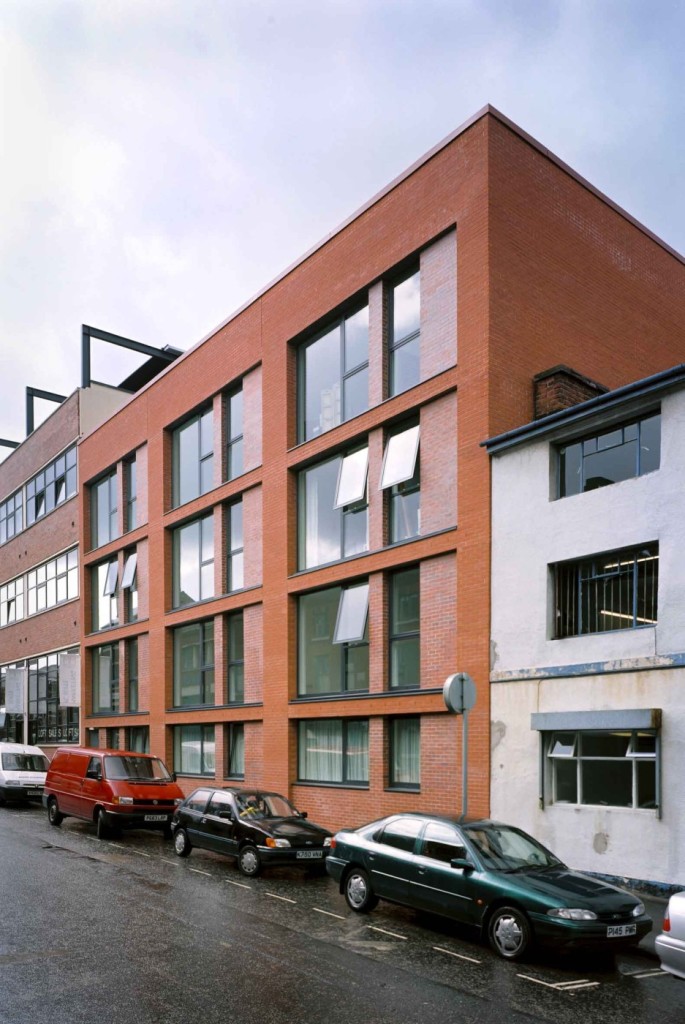 The completed scheme (Sapphire Heights) was built for an extremely low £840 per square metre, including all the fit-out of the apartments and landscaping.  To achieve this a load-bearing cross wall construction was opted for.  These load-bearing walls are not just the party walls between apartments, but also the internal cross walls between living room and bedrooms and between bedrooms.  The smaller spans for the floor slab allowed for minimal edge beams to the elevation which consequently also allowed for deep full height windows to be used.  This gives the building a very distinctive look.  Similar, but framed, schemes can not achieve such deep windows because the economic frame spacing (concrete or steel) requires a greater spacing of the frame (as opposed to the close centred cross walls), which has an impact on the depth of the edge beam and consequently reduces the windows.
The large windows are the major design feature of this building and, as discussed, could only have been achieved with a load-bearing masonry solution.  To emphasise this and to help achieve the low build cost, the palette of facing materials was restricted to two good bricks.  Unlike other apartment buildings in the city, timber, render and metal were rejected, as was the use of an expressive roof.  Consequently the two bricks have a greater presence and stature.
The two bricks are layered by 100mm in depth and the windows set in a further 75mm from the inner layer of brickwork.  This gives a highly modelled façade and gives great depth to the street and courtyard elevations.  The outer layer of brickwork (Hanson / Marshalls) is orangey is colour and forms a grid which defines the individual apartments (party walls and floors) the inner layer of darker brick (Hanson / Wilnecote) is used like an inner layer or panel between the windows to that apartment.
Sapphire Heights was awarded a Built In Quality Award from Birmingham City Council, and the BDI Industry & Genius Award in 2005.