Factory Road, Tipton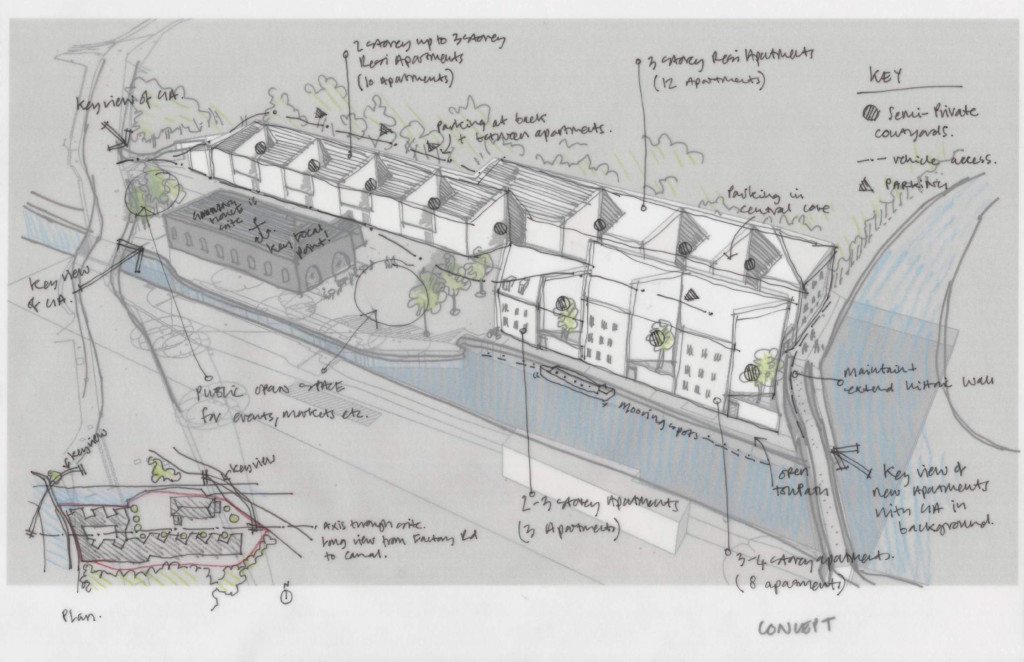 The Gauging House sits adjacent to a set of three listed locks within the Factory Locks Conservation Area in Tipton in the Black Country.
We have been working in collaboration with independent arts consultancy Public Artist Limited, Heritage Lottery Fund advisor Sarah Tibbets and artist Rob Colbourne to consider how the Grade II Listed Gauging House could be re-used, and the remainder of the .45ha site developed as residential.
"…Gauging House [was] built in 1873 for the Birmingham Navigation Company to measure the weight of canal boats across the network using the 'dry method'. The Birmingham Canal Network had previously favoured a method which recorded weights at the waterline but following a campaign led by the Earl of Dudley's agent, the Tipton Gauging House was designed along with another at Smethwick to favour this new and more accurate method. The Gauging House could also accommodate large 'Hampton' type boats which were 80 feet in length and were designed to carry coal. Over 10,000 boats were gauged and registered at Tipton between 1873 and 1900, boats were still being gauged there in the 1950's."
__________________________________________________
Extract from project page on Public Artist Limited
Rob Colbourne considered the site in his typical style: fact-finding, analysing and interpreting the site as it is now, and was, then feeding his findings and his interpretation of the information back to us. We used his research to inspire us and to drive conversation with the rest of the team in the ongoing discussion of how the site could be transformed into space that could be purposeful and useful, but also productive for both the land owners and the other people who would be affected by its regeneration. His research also fed into our preparation for the public consultation event which took place .
Specifically, we used Rob's research to inform ideas on how/what the future use of the site could be and to understand who would use it. We considered social interactions that would take place on the site, how the site could be integrated back into the local and wider community in Tipton, and of course the canal network. We also used Rob's work to inform the space planning on the wider site, using old maps etc, and we briefly discussed (although it is too early in the process to consider this), drivers for building forms, and materials.
Rob created lots of montaged images to summarise the site (see below), he has also begun to draft a document called 'Four Design Principles -Notes' which has informed the beginnings of a conceptual design guide for the site.