Rich White makes installation works about location, sense of place and the relationships that develop between people and their environment.
"My approach involves researching the space and the immediate environment to discover any unusual aspects or characteristics of the location, historical significance, architectural qualities and public perception. I use these findings to develop installation works which are very much a product of their location, basing form and structure on existing architecture, things that once used to exist there, or things that people wish – or prefer – would be there. The decision of whether to follow historic or future ideas, or respond to what once was or what could be, arises during the development process as particular stories or information becomes more relevant and compelling."
He likes to bring life to buildings and to work with materials that are specific to that site, or are potentially problematic which he can resolve through making structures.
"The things that you are not allowed to do are the things that can work."
As part of his research for our loading bay project, Rich created a base in our office and invited staff to talk in an informal way about their experiences, how they feel about the practice and the space in which they work.
"The BPN office has a very open and non-hierarchical sensibility. Directors, partners and staff all occupy the same open-plan space and are not divided up; there isn't a 'top table'. Everyone is in full view of everyone else and you might have someone peering over your shoulder while you work and you wouldn't know it.

This led me to think about whether the staff might require a solitary space, somewhere to go to be alone and not be distracted. Perhaps to work, to think, or just to be away for ten minutes."
After his in-house research session, a series of emails were exchanged between us and Rich, in particular focussing on how we obtain 'found' materials for his installation. We called on anyone we knew might have waste building materials, and have been storing items for him in advance of his arrival.
Rich also sent an online survey round to all the staff, to be completed anonymously, in an attempt to get them to open up a bit more about their feelings towards the building. He received another 5 responses… "…they were five good ones."
Below are some CG images of how his installation might work. He specifically uses the word 'might' as neither he, nor us, know exactly what we're going to get.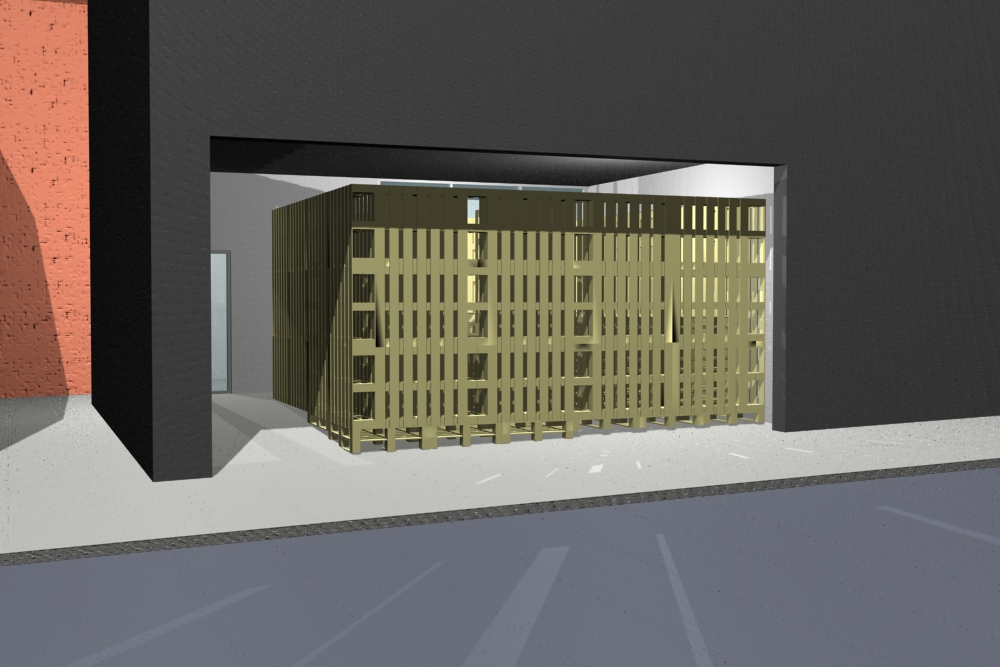 "The idea is to use pallets to create a series of walled-in staircases that lead to a small room. The final room (pretty bare in these images) would be dressed or lined with the other materials in order to create an interesting space.

I'll adapt the design to the materials provided, but the concept will remain essentially the same: the creation of an isolated room accessible via a series of steps.

I've decided to call it 'Recovery Room' which was a phrase used in one of the survey answers."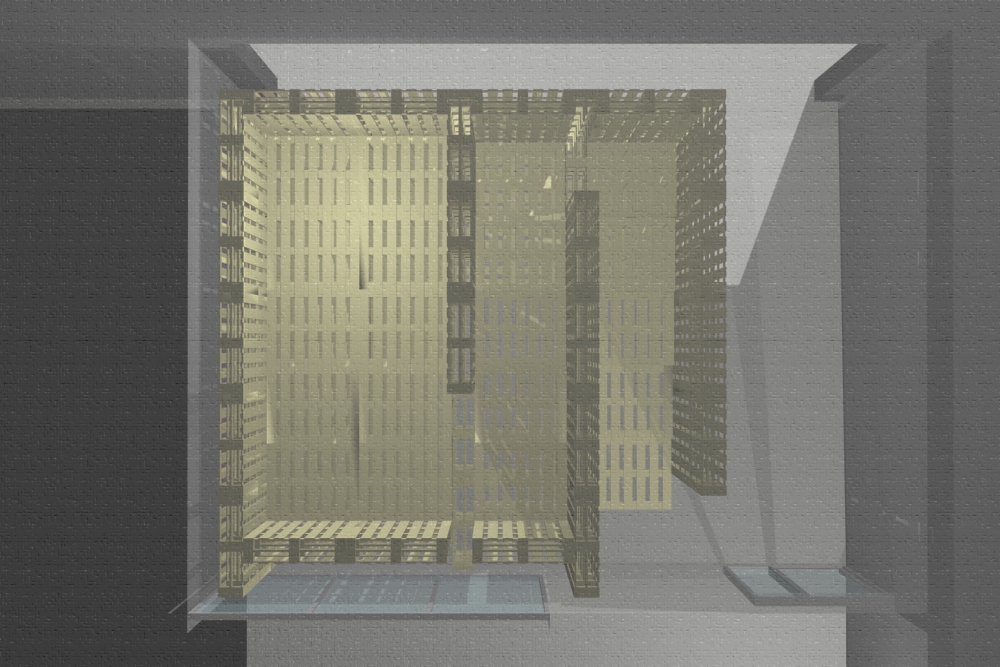 Rich will be taking up a residency for the whole of his week of exhibition and the structure he has devised is going to be built over a period of a few days. The installation forms part of the art itself.
"It is going to be a cumulative structure that people will be able watch develop and grow as the week progresses. I intend for staff to be involved in this process in some way; either by contributing materials, making suggestions or even getting stuck in and helping to build. In this way everyone will have come together to build something that perhaps only one person can use at a time."
Rich's installation is open to the public to visit, get involved with, and even help build, from 26th – 30th September. To read more about Rich's work, take a look at his website.